Music Gallery
EK Onkar - Volume I (Gurbani by Smt Santosh)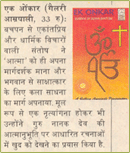 Press Cliping
Date : 30th September 1995
India Today
A CD based on Guru Nanak Devjis Gurbani, I have taken only those compositions which are based on Atma, because my search for truth of life is Atma. Sri Bhagwat Gita is the main source of my re-search.
Compositions:
Rakha Ek Hamara Swami (Rag Bhairav)
Santo Har Har Har Aaradho (Rag Sorath)
Darshan Dekh Jivan Guru Tera (Rag Bhairavi)
Sadho Rachna Raam Banai (Adana Bahar)
Simron simer simer sukh pawaon (Raag bhoopali)
Man tan tera dhan bhi tera.(Raag jaunpuri)
Guru mere sang sada hi nale(Raag malkauns)
Sadh sang japio bhagwant.(Raag nat narayani)
EK Onkar - Volume II (Sur Saravali)

2nd Volume "Sur Saravali" has been taken from Maha Kavi Surdas jis Sur-Sagar It is also based on the Truth of life as I have experienced. All devotional songs have been sung in the praise of Nirakaar Brahm and some songs are dedicated to the almighty in the choral form in this album. Ved struti Varnan Naam Simran (To remember God) has a great effect in human life. In this album Mahakavi Surdas has explained the Nirakaar(invisible God) Brahm and as well as the Sakaar (visible God in form of image) Braham. The aim of Human life is not only the materialistic gains but spritual upliftment also.The balance of these two ends will make him a complete human being.
Compositions:
Hari charanarvind – Ved Stuti Varnan
Avigat gati jani nahi – Prakriti Rahasya
Bhayo bhagwat – ShriBhagwat adi Taran Karan
Hari hari hari sumiro – Naam Mahima
The Cover page os 'EK ONKAR' depicts four main religions of the world:
1)OM- Hindu-ism
2) ONKAR- Sikh-ism
3) CROSS- Christianity &
4)Islam-Circles at the bottom depicts holy stone of Mecca where muslims goes for pilgrimage, as I have conceived.
EK Onkar - Volume III (Devotional Songs of Meera bai, Surdas etc.)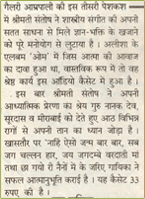 Press Cliping
Date : 8th August 1998
Hindustan
In the 3rd Volume I have taken verses from Guru Nanak Dev Ji, Sur Das ji and Meera Bai based on different Ragas and reveals some truth or the other. Love, devotion and knowledge has a great deep relationship with each other. Love is God and God is Love. Love is the Ist step towards worship. Until and unless you develop intimacy with things, human beings and nature, you wont be able to understand the depth of love when the love touches its highest extreams it turns into- worship and that is the stage to reach to God. All worldly relation are false because they are changing every moment. The sublime love towards God is ever lasting. It never ditch you.
Compositions:
Chha gayo ri tere naino mein rama
Badla re tu jal bhar laayo
Tab naagri man harsh bhai
Nahin Aeso Janam Baar Baar
Tu ram bhajan kar prani teri do din ki jindgani
Sab jag challan haar kis naal kije dosti
Jai jagdambe var daati maa
Sanvalia mharo chhaye rahya pardes
EK Onkar - Volume IV (Bulle Shah Ki Kafian (I) Smt Santosh)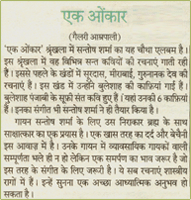 Press Cliping
Date : 14th March 2001
Sandhya Times
The 4th album is based on Bulle-Shah, Immortal Love, My philosophy of life coincides with his philosophy. Bulle-Shah diverted himself inworldly and treated the supreme as his beloved and sung in the praise of God through out his life. Bulle-Shah is the saint of spiritual love .this love is not only of one life but the outcome of several lives . Sufism is a sort of spiritual practice. Bulle-Shah considered his devotee as his wife and danced and sung in her praise. He Said: This world is a dream and the life is a long separation. Bulle-Shah is the devotee of Godly love where Atma and Parmatma merge with each other.
Compositions:
Ranjha Jogida Ban Aaya
Jis Tan Lagiya Ishq Kamaal
Tuhion Hai Mein Nahin We Sajna
Tere ishq nachaiyan kar thaiya thaiya
Ki Karda Hun Ke Karda
Ik alaf padho chhutkara -e
Khaki khak syon ral jana
Aaa mil yaara saar ley meri
Jazba E Dil (Ghazals by Nitin Sharma)
Nitin Sharma is a promising young ghazal singer of today. He has a melodious voice which goes deep into the heart. He has chosen famous poets for this album like:Shakeel Badayuni, Jigar Moradabadi, Behzaad Lakhnavi etc.The Cassette was released worldwide and has received resounding success all over the globe.
Compositions:
Jazba-edil…
Aise chup hain…
Apne khwabon mein…
Aankhon se door…
Chale ja rahe hai…
Koi la sako to laao…
Kitni haseen raat hai…
Yeh kya sitam hai…
New Up Comings
Compositions:
1) Meera Bai
Koi Kachu Kaho Re Rang Lag-gayo
Mein Girdhar ke Rang Rati
Jogi Mat Jaa
Heri – Mein to Prem Diwani etc
2) Bulle Shah Ki Kafiyaan Part II
Ishq di navion navi bahar
Khaqi Khaaq syon ral jana
Aa mil yara saar ley meri
Dohade etc
Photo Archive
Release of Ek Onkar Part I (Gurbani) by Doctor Karan Singh Dated 5th Aug 1995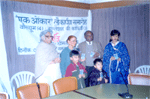 Release of Bulle Shah Ki Kafian - I
Dated 3rdFeb, 2001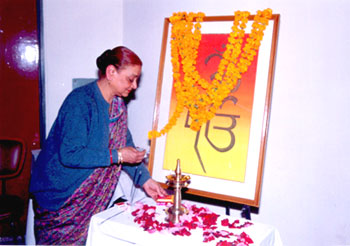 Lighting the Lamp for the 4th Album (Bulle Shah Ki Kafian) Dated 3rd Feb 2001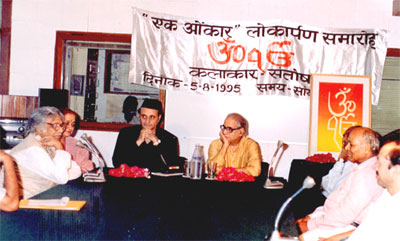 Release of Ek Onkar Part I (Gurbani) by Doctor Karan Singh Dated 5th Aug 1995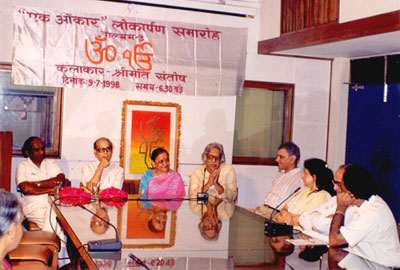 Release of Ek Onkar - Volume III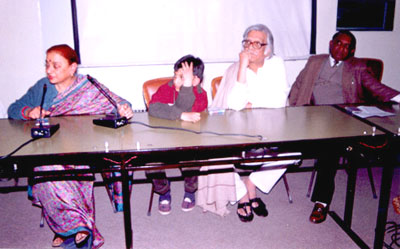 Release of Bulle Shah Ki Kafian - I
Dated 3rdFeb, 2001
Our Tweets
What is life and what is death?
When these basic five elements are present in a body in a balanced state the person is healthy with full of life and when these elements are in an imbalance state a person is unwell and sick. And when these five elements are drastically in an imbalance state The death occurs.
To know thyself and God, peep within daily, atleast for five minutes and you will find your goal oneday.
The matter can neither be created nor be destroyed,science says. It exists as various forms of energy. Soul never dies but change its form.
Atma is just like an Atom which exists in the Cosmos. A scientific Approach for soul.
Mystery of God solved. Truth of life for the welfare of the society. Atma is just like an Atom. It stores all deeds to next life after death.
Om, Allah and God are the names of the purest Atma. These names are given by the different saints at different times. Atma is God. Matter can neither be created nor be destroyed but changes its form Similarly Atma changes its form after death. Atma is just like an Atom. It stores all deeds to next life after death. It is the truth of life for the welfare of the society.
युदध एक अभिशाप है और शांति अमृत !यू ट्यूब मे पंडित बेतवा जी की भविष्य वाणी से (भारत पाक युदध ) विश्व युदध के संकेत मिलते हैं जो विश्व व मानवता के लिये शुभ नहीं है । परमाणु युदध होने पर सब कुछ समाप्त हो जाये गा । इस धरती पर जब से जीवन का प्रादुर्भाव हुआ है और अब तक जितनी प्रगति हुई है सब नष्ट हो जाये गी । आने वाली पीढ़ियों को इस के दुष्परिणाम झेलने पड़ें गे ।यह युदध आतंकवाद की समाप्ति के लिये हो रहा है जिस मे मुख्य भूमिका प्रधान मंत्री नवाज़ शरीफ़ जी की है । मै उन से गुज़ारिश करूँ गी कि अपनी ज़िद छोड़ दें,और विश्व शांति प्रयासों मे अपना योग दान दें इस से उन का नाम रौशन होगा और वह युगों तक याद किये जायेंगे । शायद वो यह नहीं जानते कि उन्हें और हम सब को दोबारा इसी धरती पर जन्म लेना है । यह मालूम नहीं किस रूप मे,देश मे,घर मे और परिवार मे । तब क्यों न इस धरती को ही इतना सुन्दर बना लें जहाँ जीवन सरल, सुगम,शांति पूर्ण और प्रेम मय हो जाये । घृणा ,जलन,नफ़रत और ऊँच नीच के लिये कोई स्थान न हो ।
Read More Tweets and Posts
It is rather simple to write a essay writers service paper quickly, but you want to use the correct methods to achieve this objective.